Collagène nourri à l'herbe Sproos
Nature
Des peptides de collagène bovin hydrolysé provenant de la peau de bœufs nord-américains nourris à l'herbe et élevés en pâturage, pour aider à régénérer et à renouveler la production de collagène naturel.
10 g de collagène de bovin nourri à l'herbe par portion
collagène pur – aucun ajout
hautement soluble
ajoutez à votre boisson chaude ou froide préférée ou même à un bol de soupe ou de gruau
De 23,99 $ US à 28,48 $ US
À propos
Mode d'emploi
Nutrition
Prenez votre santé en main en incorporant le collagène Sproos™ dans vos soins quotidiens. Le collagène est la protéine la plus abondante dans le corps humain, il se trouve dans notre peau, nos muscles, nos os, nos vaisseaux sanguins, notre système digestif et nos tendons. Malheureusement, l'aptitude de notre corps à produire son propre collagène diminue avec le temps, ce qui peut engendrer des problèmes de santé chroniques tels que des douleurs articulaires, des problèmes de digestion, un état dépressif et un aspect de peau terne et sèche.

Dieu merci, Sproos™ vient à votre rescousse ! Nos peptides de collagène nourri à l'herbe sont des acides aminés à chaîne courte, hautement solubles, digestibles et biodisponibles (lisez : qui s'absorbent facilement). Ils collaborent à la régénération et au renouvellement du collagène, contrant les effets de la dégénérescence du collagène dû au vieillissement. Notre puissant collagène bovin provient de bœufs nord-américains nourris à l'herbe, une source naturelle et renouvelable.

Usage recommandé : Pour aider à la formation de collagène et au maintien d'une bonne santé.

Utilisation du collagène bovin Sproos : Ajoutez une cuillérée ou un sachet par jour à une boisson chaude ou froide de votre choix, agitez ou remuez bien jusqu'à dissolution complète. Excellent dans un jus, un smoothie, du thé ou du café. C'est également une combinaison parfaite lorsqu'ajouté à des aliments tels que le gruau et la soupe.

Avertissement : Consultez un professionnel de la santé avant d'utiliser le produit si vous êtes enceinte ou si vous allaitez, si vous souffrez d'une maladie hépatique ou rénale ou si on vous a prescrit un régime pauvre en protéines. Consultez un professionnel de la santé avant d'utiliser le produit en cas de calculs biliaires, obstruction du canal biliaire ou excès d'acide gastrique. La consommation de collagène peut causer de légers troubles gastro-intestinaux.
Évaluations
Customer Reviews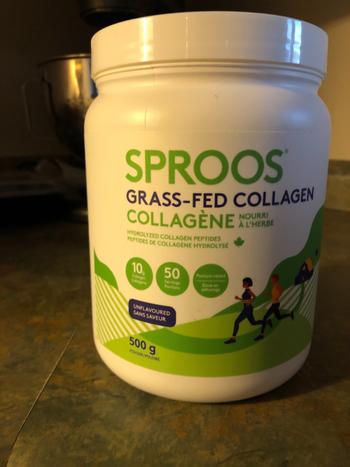 09/18/2021
Fantastic quality!
I love Sproos collagen. It's a high quality product (and truly unflavoured) and mixes into anything! I use it in smoothies, elixirs, and even savoury foods when I need to bump up the protein. Definitely a brand I would recommend!
Alexandra W.

CA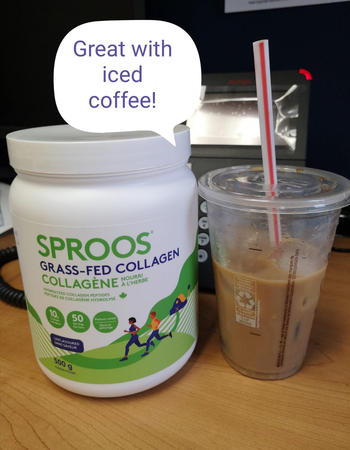 09/08/2021
Great Product From a Canadian Company
I've been taking Sproos grass-fed collagen for over 6 months and I can say it is the best collagen supplement I've taken. It's tasteless, mixes well hot or cold, and provides digestive help in addition to the standard benefits from collagen. They provide fast delivery, and pricing is certainly competitive. I am a very happy customer!
Joy O.

CA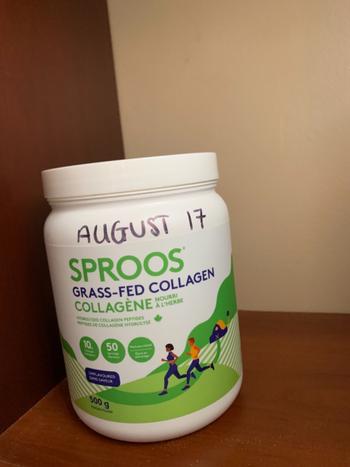 09/05/2021
Clean collagen and easy to mix!
Love how this product mixes well in hot drinks. The taste is barely noticeable.
Tatiana N.

CA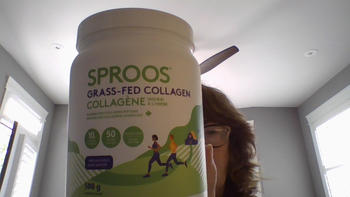 09/03/2021
Sproos Collagen Powders
I was looking for a clean Collagen powder to add to my smoothies and wherever I could add it. As I learned it was essential for my muscles, tendons, ligaments, bones and the gut-digestive system. I had developed arthritis and needed help to stop the inflammation and pain associated with it. I tried other brands, but this is the best one I found, Grass fed Collagen and after taking it for a few weeks I was starting to notice the difference with my gut issues and my aches and pains were getting better. I also like the Collagen Greens it tastes good and easy to digest, and I like the thought of getting the extra greens I need. I have also noticed a difference in my skin. Its all good for me...very happy with Sproos!
SM S.

CA
09/17/2021
Rainforest Preservation Friendly
After discovering that many of the collagen products sold today are contributing to the deforestation of the Amazon rainforest, I did my research to find a brand that is locally sourced and operated. Sproos products are not only helping to protect against deforestation, they also work and taste great. I recommend Sproos to all of my family and friends who are considering adding collagen into their diets.
Rebecca M.

US