Collagène marin Sproos
Nature
Peptides de collagène hydrolysé issus de la peau de poissons sauvages de l'océan Atlantique nord, contribuant à la régénération et au renouvellement du collagène naturel. Diverses études ont démontré que le collagène marin était celui qui avait la plus grande incidence sur la santé de la peau, dû à sa grande biodisponibilité (traduction : il s'absorbe facilement !).
10 g de collagène marin par portion
collagène pur – absolument aucun ajout
hautement soluble
ajoutez à votre boisson chaude ou froide préférée ou même à un bol de soupe ou de gruau
De 29,99 $ US à 49,99 $ US
À propos
Mode d'emploi
Nutrition
Prenez votre santé en main en incorporant le collagène Sproos™ dans vos soins quotidiens. Le collagène est la protéine la plus abondante dans le corps humain, il se trouve dans notre peau, nos muscles, nos os, nos vaisseaux sanguins, notre système digestif et nos tendons. Malheureusement, l'aptitude de notre corps à produire son propre collagène diminue avec le temps, ce qui peut engendrer des problèmes de santé chroniques tels que des douleurs articulaires, des problèmes de digestion, un état dépressif et un aspect de peau terne et sèche.

Dieu merci, Sproos™ vient à votre rescousse ! Nos peptides de collagène marin sont des acides aminés à chaîne courte, hautement solubles, digestibles et biodisponibles (lisez : qui s'absorbent facilement). Ils collaborent à la régénération et au renouvellement du collagène naturel, contrant les effets de la diminution du taux de collagène naturel. À cause de sa grande biodisponibilité, le collagène marin est reconnu comme étant la source de collagène la plus efficace pour améliorer la santé de la peau. Notre puissant collagène marin provient de poissons sauvages de l'océan Atlantique nord, une source naturelle et renouvelable.

Usage recommandé : Pour aider à la formation de collagène et au maintien d'une bonne santé.

Utilisation du collagène marin Sproos : Ajoutez une cuillérée ou un sachet par jour à une boisson chaude ou froide de votre choix, agitez ou remuez bien jusqu'à dissolution complète. Excellent dans un jus, un smoothie, du thé ou du café. C'est également une combinaison parfaite lorsqu'ajouté à des aliments tels que le gruau ou de la soupe.

Avertissement : Consultez un professionnel de la santé avant d'utiliser le produit si vous êtes enceinte ou si vous allaitez, si vous souffrez d'une maladie hépatique ou rénale ou si on vous a prescrit un régime pauvre en protéines. La consommation de collagène peut causer de légers troubles gastro-intestinaux.
Évaluations
Customer Reviews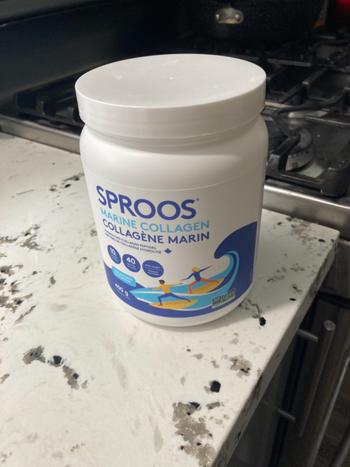 09/16/2021
Great product.
Love the sproos marine collagen. It's easy to drink, dissolves easy and no bad taste. The results are great in my hair skin and nails, also helps digestion. And their customer service is great too.
Kristiina M.

CA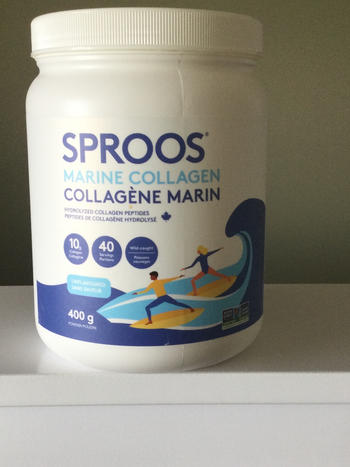 09/09/2021
Marine Collagen
A friend recommended Sproos Collagen so we ordered the Marine Collagen. My partner and I have been using it every morning in our breakfast coffee for almost two months now. We've both noticed that our skin is much smoother and hydrated. I had ridges on my fingernails and they are smoothing out now and shiny. We haven't noticed much difference in our joints yet, but are pleased with the results overall. Ordering was easy, delivery was fast. I like that it is a Canadian product, doesn't have any taste, and easy to use. I pour a scoop into a take away mug, add a half cup of milk and a splash of espresso coffee. Tighten the lid and give it a good shake, then pour the rest of the coffee in. Honestly you would think you were drinking a fancy coffee drink with all the froth!
Janet F.

CA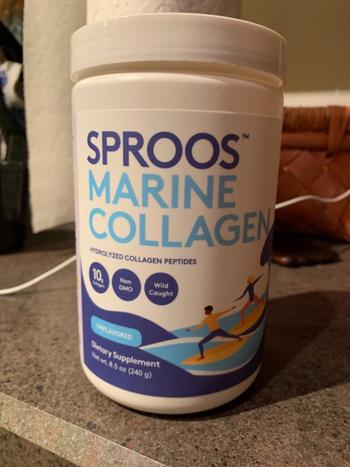 08/30/2021
New user
I've been using the Marine Collagen for about 4x/week for a month. I think I'm seeing my hair and nails grow faster. The powder is ultra fine which can be a little annoying because it gets everywhere if you're not careful pulling the scoop out while the container is full. It doesn't taste fishy at all, but there is a slight taste. I prefer to add it to my oatmeal or a smoothie rather than a drink. Overall I'm excited to see if my hair gets thicker and if it will stimulate new hair growth in vet the next few months.
joyce b.

US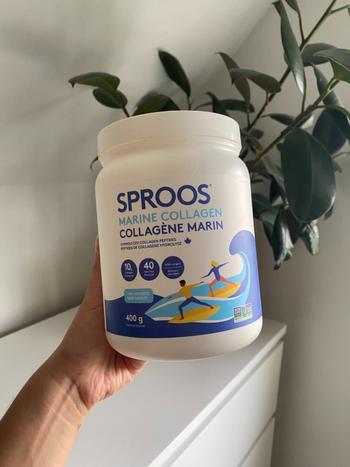 08/17/2021
Best marine collagen
Really appreciate the sourcing and testing that Sproos puts into their products! I use their marine collagen daily in my smoothies, coffees or matchas.
Carly C.

CA
09/15/2021
Great Product!
This product has really helped my husband and I with digestion and skin hydration. We continue to purchase!
Kimberly S.

US