Sproos Grass-Fed Collagen
Unflavoured
Sproos® sources only the highest grade premium grass-fed collagen:
Grass-fed and finished North American pasture-raised cattle

10 g of collagen per serving

Types I and III Collagen

Pure hydrolyzed collagen peptides – nothing else added!

Produced in a Health Canada approved GMP Certified Facility

Free of added hormone, antibiotics and pesticides

Highly soluble: dissolves easily into both hot and cold beverages

Low molecular weight ensures maximum absorption

Keto and paleo-friendly
From US $23.99 to US $28.48
About
How To Use
Nutrition
Sproos® up your health by adding collagen to your daily routine. Collagen is the body's most abundant protein – it's found in our skin, muscles, bones, blood vessels, digestive systems and tendons. Sadly, our body's natural ability to produce collagen wanes with age, which can lead to chronic health issues like joint pain, digestive issues and dull, dry skin. Learn more about collagen here.

Thankfully, Sproos® is here to help! Our Grass-Fed Collagen peptides are highly soluble, digestible and bioavailable (read: easily absorbed) short chain amino acids. They help to restore and rebuild the body's collagen, countering the effects of natural collagen decline. We source our Grass-Fed Bovine Collagen from North American grass-fed, pasture-raised cattle to ensure a natural, sustainable source of this powerful food.

 

Recommended purpose: to help with the formation of collagen and for the maintenance of good health.

Using Sproos: Add one scoop or sachet per day to a hot or cold beverage of your choice and shake or stir well until fully dissolved. Great in juice, smoothies, tea and coffee. Also a perfect addition to foods like oatmeal and soup.

Caution: If you are pregnant or breastfeeding, consult a health care practitioner prior to use. If you have liver or kidney disease or have been instructed to follow a low protein diet, consult a health care practitioner prior to use. If you have gallstones, bile duct obstruction or excess stomach acid consult a health core practitioner prior to use. Collagen may cause mild gastrointestinal disturbances.
Reviews
Customer Reviews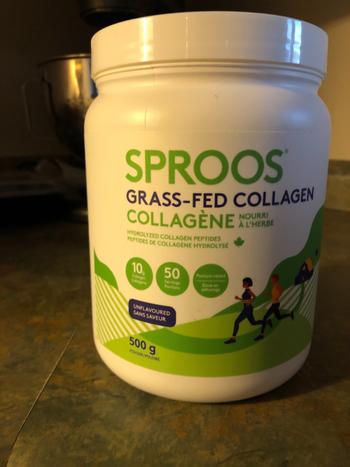 09/18/2021
Fantastic quality!
I love Sproos collagen. It's a high quality product (and truly unflavoured) and mixes into anything! I use it in smoothies, elixirs, and even savoury foods when I need to bump up the protein. Definitely a brand I would recommend!
Alexandra W.

CA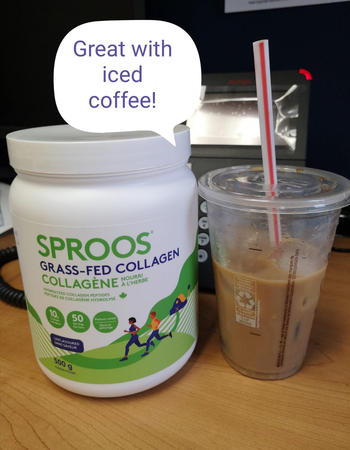 09/08/2021
Great Product From a Canadian Company
I've been taking Sproos grass-fed collagen for over 6 months and I can say it is the best collagen supplement I've taken. It's tasteless, mixes well hot or cold, and provides digestive help in addition to the standard benefits from collagen. They provide fast delivery, and pricing is certainly competitive. I am a very happy customer!
Joy O.

CA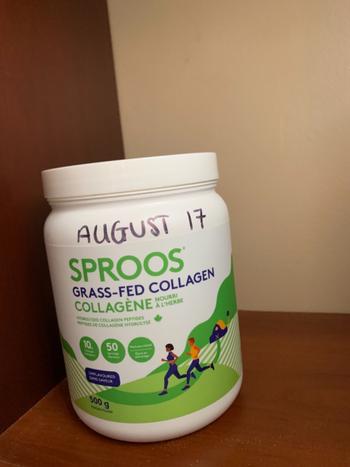 09/05/2021
Clean collagen and easy to mix!
Love how this product mixes well in hot drinks. The taste is barely noticeable.
Tatiana N.

CA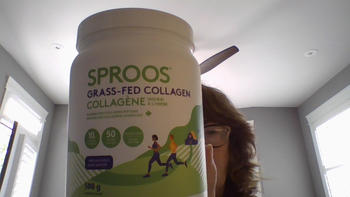 09/03/2021
Sproos Collagen Powders
I was looking for a clean Collagen powder to add to my smoothies and wherever I could add it. As I learned it was essential for my muscles, tendons, ligaments, bones and the gut-digestive system. I had developed arthritis and needed help to stop the inflammation and pain associated with it. I tried other brands, but this is the best one I found, Grass fed Collagen and after taking it for a few weeks I was starting to notice the difference with my gut issues and my aches and pains were getting better. I also like the Collagen Greens it tastes good and easy to digest, and I like the thought of getting the extra greens I need. I have also noticed a difference in my skin. Its all good for me...very happy with Sproos!
SM S.

CA
09/17/2021
Rainforest Preservation Friendly
After discovering that many of the collagen products sold today are contributing to the deforestation of the Amazon rainforest, I did my research to find a brand that is locally sourced and operated. Sproos products are not only helping to protect against deforestation, they also work and taste great. I recommend Sproos to all of my family and friends who are considering adding collagen into their diets.
Rebecca M.

US