Sproos Joint Collagen
Mango Turmeric
Sproos™ Joint Collagen is a synergistic combination of collagen and other active ingredients, designed to work meaningfully from within to enhance your joint health. Add Sproos to water for a refreshing daily beverage and your joints will thank you!
7 g of grass-fed collagen per serving
5 active ingredients (collagen, glucosamine sulfate, MSM, turmeric, hyaluronic acid)
0 g sugar
Makes a light, refreshing beverage
Just add one scoop or sachet to water
US $36.99
About
How To Use
Nutrition
When was the last time you considered your joint health? If you're like most people, you rarely think about your joints…until they start to cause trouble.

Our hard-working joints allow movement and freedom, which is key for our overall health and enjoyment in life. Early degenerative joint changes are hallmarked by stiffness, decreased flexibility and a wearing down of cartilage. The pain and inflammation that comes with these changes can put a serious damper on our activity levels. If stiffness, achy joints, or neck pain is hindering your ability to do the things you love, it's time to take action.

Thankfully, Sproos™ is here to help! Our joint blend is a synergistic combination of 5 active ingredients (grass-fed beef collagen, glucosamine sulfate, MSM, organic turmeric and hyaluronic acid) designed to work from within to defend, soothe and regenerate tired, achy and stiff joints, and keep you on the move. The result? A powerful formula that delivers a unique blend of antioxidant, anti-inflammatory and regenerative effects.

We keep it simple: take one scoop or sachet daily with water, and get those joints moving!

Recommended purpose: helps to maintain healthy joints, to protect against the deterioration of cartilage and to reduce joint pain associated with osteoarthritis.

Using Sproos: Add one scoop or sachet per day to 355 – 473 mL of cold water and shake or stir well until fully dissolved, or add your favourite smoothie. Use for a minimum of one month to see beneficial effects.

Caution: If you are pregnant or breastfeeding, consult a health care practitioner prior to use. If you have liver or kidney disease or if you have been instructed to follow a low-protein diet, consult a health care practitioner prior to use. If you have gallstones, bile duct obstruction or excess stomach acid, consult a health core practitioner prior to use. Collagen may cause mild gastrointestinal disturbances.
What's Inside
Hydrolyzed Collagen (from grass-fed North American bovine hides)

Our grass-fed (and finished) pasture-raised USA cattle are raised without the use of hormones, antibiotics or pesticides.

Grass-fed collagen comes the hides of cattle. It is also known as "bovine collagen". Bovine collagen is an excellent source of collagen types I and III. Type I collagen is the most dominant type of collagen in the body and type III is found in our muscles, digestive system, blood vessels and skin. This makes grass-fed collagen great for all-round body health and recovery from injuries.

Turmeric (4:1 extract)

Turmeric root is a prized spice that contains a number of curcuminoids with powerful anti-inflammatory and antioxidant activities. It has been shown that oxidative stress destroys cartilage cells, damaging cartilage and leading to an increased risk of degenerative joint changes and inflammation. Curcumin may prevent such destruction of cartilage cells. Curcumin is a potent anti-inflammatory agent and is associated with decreased joint inflammation, reducing further damage to cartilage cells, and improving joint pain and physical function.

Hyaluronic Acid (from fermentation)

Hyaluronic acid is found in our bones, the synovial fluid of joints, and tendons throughout the body, and is also a bit of a rockstar when it comes to hydration and lubrication. For joints, it is notably present in a type of cartilage called hyaline cartilage, which covers the ends of bones, thereby supporting the hydration, lubrication, and cushioning of joints. With age, the amount of hyaluronic acid in the body is depleted, which results in degenerative joint changes, reduced joint elasticity and also lowers our body's ability to deal with the effects of physical stress.

One of the most remarkable features of hyaluronic acid is its ability to retain moisture, which is key for so many of the body's functions. About half of all of the hyaluronic acid in our body is found in our skin. With a dramatic decrease in hyaluronic acid, our skin's ability to hold onto moisture is also dramatically reduced. This leads to a wide range of negative effects in the appearance of our skin. Happily, taking hyaluronic acid has been shown to improve the moisture balance in our skin.

MSM

MSM is a sulfur-containing compound that provides biologically active sulfur, a critical mineral involved in a wide range of body functions. Because it facilitates normal cellular activity and a healthy immune response, MSM is a potent anti-inflammatory. MSM has been shown to decrease joint pain, and to improve stiffness and physical functioning of the joints.

Glucosamine Sulfate (from shrimp exoskeletons)

Glucosamine is made from chains of sugars and proteins and is naturally found within the cartilage of joints. Glucosamine increases the amount of cartilage and fluid that surrounds our joints, which helps to prevent joint degeneration and subsequent pain. Research has demonstrated that supplemental Glucosamine Sulfate may help to modify joint structure and reduce joint space narrowing, and may disrupt the progression of osteoarthritis. Glucosamine sulfate may reduce also pain symptoms of osteoarthritis.

Organic Coconut Water

Tropical regions have always known about the amazing health benefits of tender coconut water, which comes from young green coconuts. Each nut contains about 200 mL to 1 L of coconut water. Coconut water is packed with antioxidants, amino acids, enzymes, B-complex vitamins, vitamin C and minerals like iron, calcium, potassium, magnesium, manganese and zinc. 

Organic Stevia

Stevia is an intensely sweet natural sweetener that is harvested from the stevia rebaudiana plant. Research indicates that stevia sweeteners do not contribute calories or carbohydrates to the diet and do not affect blood glucose or insulin response. Organic stevia is a component of our sugar-free sweetener blend, alongside organic erythritol and monk fruit, and makes a good alternative to sweeteners that can spike blood sugar.

Monk Fruit

Monk fruit contains compounds which, when extracted, are 300 times the sweetness of cane sugar but with no calories and no effect on blood sugar. This fruit has been used as a sweetener for centuries across Asia. Thanks to its high antioxidant levels, it has also been used medicinally. Monk is a component of our sugar-free sweetener blend, alongside organic erythritol and organic stevia.

Organic Erythritol

Erythritol is a sugar substitute that looks and tastes like sugar, but has almost no calories. Erythritol is described as having a zero glycemic index, and it has not been found to affect blood sugar or insulin levels. Organic erythritol is made by breaking down the starch from organic (non-GMO) corn to make glucose. Glucose is then fermented with yeast or another fungus to produce organic erythritol. Erythritol is almost fully absorbed in the small intestine, so does not typically cause the laxative effects that some individuals experience with other sugar alcohols, like xylitol and maltitol. Organic Erythritol is a component of our sugar-free sweetener blend, alongside organic stevia and monk fruit, and makes a tasty alternative to sweeteners that can spike blood sugar.


Sea Salt

Pure sea salt retains all essential natural elements from the sea. Sea salt can contain magnesium, calcium, potassium, iron, zinc and iodine. Each of these elements is essential for good human health.

Natural Mango and Orange Flavours

We believe that functional products should also taste great! The delicious but subtle flavoring of our products is provided by the use of natural flavors from plant-based natural sources. Rest assured, there is no hidden MSG or unmentionable parts of beavers in our natural flavors!

Sodium Phosphate

Sodium phosphate is a generic term that may refer to any sodium salt of phosphoric acid. It is commonly added to food, serving a variety of purposes, and has been well studied and is considered safe. We use it to mask some of the more unpalatable flavors provided by the medicinal ingredients contained in our Joint formulation. Sodium phosphate has also been found to help in the development and maintenance of bones and teeth, acts as a source of electrolytes for the maintenance of good health and helps to maintain the body's ability to metabolize nutrients.

Malic Acid

Malic acid is a natural substance found in fruit and vegetables, one of the most common sources being apples. It is also naturally present in our body's cells and large amounts of it are formed and then eventually broken down again on a daily basis. It possesses many health-related benefits such as boosting immunity, maintaining oral health, reducing the risk of poisoning from a buildup of toxic metals and promoting smoother and firmer skin. Malic acid provides a safe and effective way for us to enhance the flavor and function of our blends.
Reviews
Customer Reviews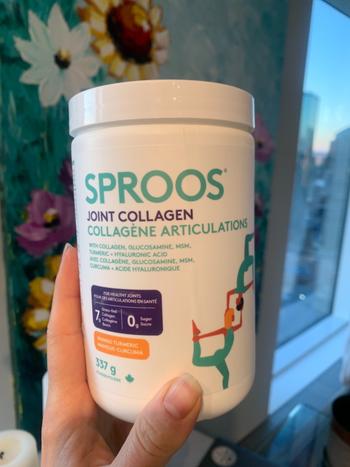 09/13/2021
Amazing
We've been taking this for almost two years and always miss it if we don't have it. My husband and I notice it not only helps with our joints but also our whole body health. Would highly recommend!
Allison E.

CA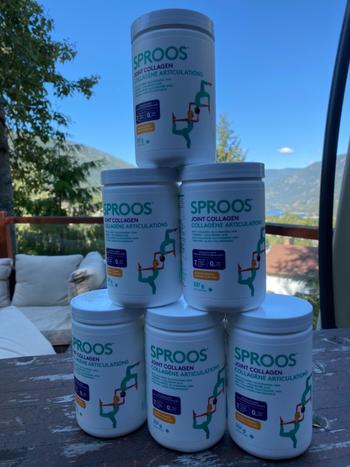 09/03/2021
Love this product and the brand!!!
I drink a cup of Sproos every morning … without fail! I travel with it too as I can't miss it. Post knee surgery sproos up your joints is my favorite, keeps me active and also helps with my skin and hair! I order in bulk to say the least!!
Megan M.

CA
11/05/2020
Speedy arrival from Canada & excellent quality collegen!
I was so excited to get my Sproos collegen - it is excellent for adding into my morning coffee & I also love the tumeric one as a hot drink in the evenings. I've noticed the benefits after using for quite a while now: shiny hair, no sore/stiff joints & glowing skin... thanks Sproos!
Rachel W.

GB
10/28/2019
To take SPROOS UP YOUR JOINTS has become a daily routine for me and I can't be without it !!
For the first time I took SPROOS UP YOUR JOINTS since the 1st of September 2019.- Since that I found very significant benefits regarding my joints !! - I really really would definitely recommend SPROOS UP YOUR JOINTS to any other friends of mine !!
Jackie C.

CH
07/13/2019
Love love love Sproos MCT Collagen Creamer
I've been using a few products for awhile now and I'm really enjoying them! I had tried other collagen creamers from different brands before but to be honest, either the taste wasn't all that great and I wasn't feeling any benefits. That hasn't been the case with Sproos MCT collagen creamer, if I miss a day of it in my coffee I'm Sad and my coffee just isn't the same. I really enjoy the taste and creaminess it adds, not to mention since using collagen for awhile now I feel my skin looks amazing! I have recommended the products to friends and will continue to use this specific product for a long time to come. I bought the Sproos up your joints for my husband and he's been really enjoying it- it tastes awesome he says!
Kristen G.

CA