Sproos Marine Collagen
Unflavoured
Sproos® sources only the highest grade premium marine collagen: 
Wild-caught North Atlantic fish (cod, pollock and haddock)

10 g of collagen per serving

Type I Collagen

Pure hydrolyzed collagen peptides – nothing else added!

Processed locally in Canada 

Produced in a Health Canada approved GMP Certified Facility

Non-GMO Project Verified

Tested to meet stringent Canadian and EU standards for heavy metals

Highly soluble: dissolves easily into both hot and cold beverages

Low molecular weight ensures maximum absorption

Keto and paleo-friendly
From US $29.99 to US $49.99
About
How To Use
Nutrition
Sproos® up your health by adding collagen to your daily routine. Collagen is the body's most abundant protein – it's found in our skin, muscles, bones, blood vessels, digestive systems and tendons. Sadly, our body's natural ability to produce collagen wanes with age, which can lead to chronic health issues like joint pain, digestive issues and dull, dry skin. Learn more about collagen here.

Thankfully, Sproos® is here to help! Our Marine Collagen peptides are highly soluble, digestible and bioavailable (AKA easily absorbed) short chain amino acids. They work to restore and rebuild the body's collagen supply, countering the effects of natural collagen decline. Its high bioavailability means that marine collagen is recognized as the most effective source of collagen for enhancing skin health. We source our marine collagen from wild-caught North Atlantic fish to ensure a natural, sustainable source of this powerful food.

Recommended purpose: to help with the formation of collagen, and for the maintenance of good health.

Directions: Add one scoop or sachet per day to a hot or cold beverage of your choice and shake or stir well until fully dissolved. Great in juice, smoothies, tea and coffee. Also a perfect addition to foods like oatmeal and soup.

Caution: If you are pregnant or breastfeeding, consult a health care practitioner prior to use. If you have liver or kidney disease or have been instructed to follow a low protein diet, consult a health care practitioner prior to use. Collagen may cause mild gastrointestinal disturbances.
Reviews
Customer Reviews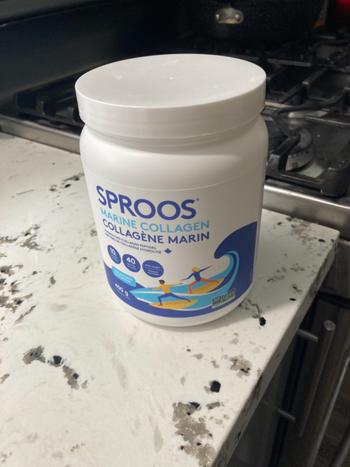 09/16/2021
Great product.
Love the sproos marine collagen. It's easy to drink, dissolves easy and no bad taste. The results are great in my hair skin and nails, also helps digestion. And their customer service is great too.
Kristiina M.

CA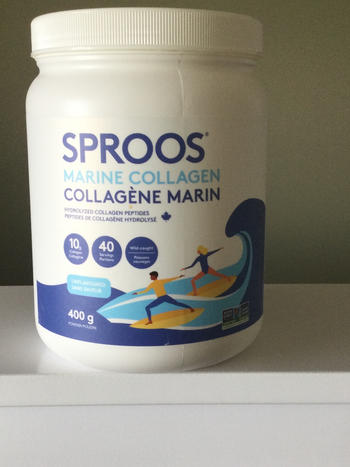 09/09/2021
Marine Collagen
A friend recommended Sproos Collagen so we ordered the Marine Collagen. My partner and I have been using it every morning in our breakfast coffee for almost two months now. We've both noticed that our skin is much smoother and hydrated. I had ridges on my fingernails and they are smoothing out now and shiny. We haven't noticed much difference in our joints yet, but are pleased with the results overall. Ordering was easy, delivery was fast. I like that it is a Canadian product, doesn't have any taste, and easy to use. I pour a scoop into a take away mug, add a half cup of milk and a splash of espresso coffee. Tighten the lid and give it a good shake, then pour the rest of the coffee in. Honestly you would think you were drinking a fancy coffee drink with all the froth!
Janet F.

CA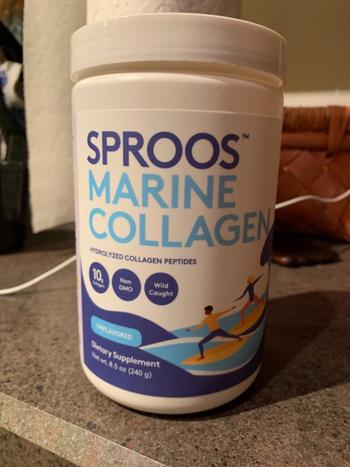 08/30/2021
New user
I've been using the Marine Collagen for about 4x/week for a month. I think I'm seeing my hair and nails grow faster. The powder is ultra fine which can be a little annoying because it gets everywhere if you're not careful pulling the scoop out while the container is full. It doesn't taste fishy at all, but there is a slight taste. I prefer to add it to my oatmeal or a smoothie rather than a drink. Overall I'm excited to see if my hair gets thicker and if it will stimulate new hair growth in vet the next few months.
joyce b.

US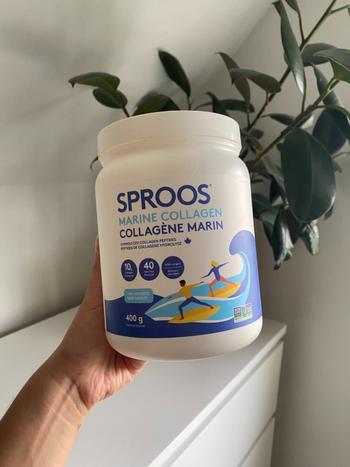 08/17/2021
Best marine collagen
Really appreciate the sourcing and testing that Sproos puts into their products! I use their marine collagen daily in my smoothies, coffees or matchas.
Carly C.

CA
09/15/2021
Great Product!
This product has really helped my husband and I with digestion and skin hydration. We continue to purchase!
Kimberly S.

US