Sproos MCT Collagen Creamer
Unflavoured
Sproos® up your coffee, tea, or smoothie with this creamy, dairy-free creamer, made with a balance of premium, wild-caught marine collagen and MCT (Medium-Chain Triglycerides) powder. Our MCT powder is made from the coconut oil of young coconuts and is a source of healthy digestible fats to support optimal brain health. Adds a delicious creaminess to your beverage with a neutral flavour so you don't have to worry about it spoiling the taste of your favourite coffee!
Each serving contains 5 g wild-caught marine collagen and 5 g MCT powder
Wild-caught marine collagen sourced from North Atlantic fish
Certified Non-GMO Project Verified
Whisk or blend into both hot or cold beverages for a creamy nutritious boost, or even add to baked goods!
Neutral flavour (no coconut flavour)
Unsweetened (0 g sugar)
Dairy-free
22 servings per tub
US $25.99
About
How To Use
Ingredients
Nutrition
Sproos MCT Collagen Creamer adds creaminess to your favourite hot or cold beverage while also providing a daily dose of two of your favourite ingredients, marine collagen and MCT powder! Sproos marine collagen peptides are highly soluble and easily absorbed helping to restore and rebuild the body's collagen providing support to skin, hair, nails, digestion, and joints. We source our marine collagen from the skins and scales of wild-caught North Atlantic fish (haddock, pollock and cod), ensuring a sustainable source of this powerful food.

Our MCT powder is made from the coconut oil of young coconuts and is a source of healthy, digestible fats. Our premium MCT powder typically contains 70% MCTs, of which over 92% is combined Caprylic and Capric Acid (C8 and C10). MCT oil is supportive of both metabolic and cognitive functioning, helping you to think more clearly and support a healthy weight, so is an excellent addition to a healthy diet.

Recommended purpose: helps to support and maintain a healthy digestive system, and is a source of healthy, digestible fats optimal for brain health and metabolic functioning.

Directions: Add one scoop or sachet to your coffee, tea or smoothie and whisk until blended. Also try adding our collagen creamer to foods like energy balls, pancakes, baked goods, oatmeal, chia puddings, and soups.

Caution: If you are pregnant or breastfeeding, consult a health practitioner prior to use. If you have liver or kidney disease or if you have been instructed to follow a low protein diet, consult a health care practitioner prior to use. Collagen may cause mild gastrointestinal disturbances.

Ingredients: Hydrolyzed Marine Collagen, Medium-Chain Triglycerides (MCT) Powder, Acacia Fibre.

Contains: Fish (cod, pollock, haddock).
Reviews
Customer Reviews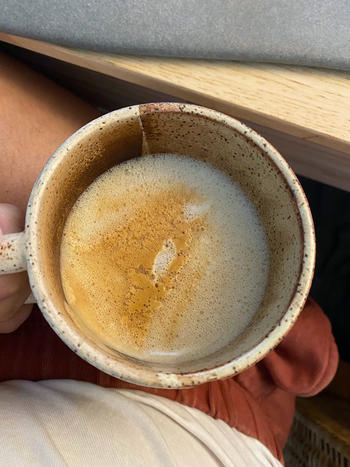 08/18/2021
I can't go without this creamer in my morning coffee.
It's creamy and delicious without ruining the flavour of my coffee. I blend it for a few seconds for extra froth. Will order again and again!
Melanie R.

US
09/10/2021
Love this stuff!
Love this stuff! It has a great but not overpowering flavour, adds a great brain boost to morning beverage, weather it be hot or cold, & it mixes in very nicely. Highly recommend!
Nancy

CA
09/08/2021
Amazing
I am so thankful I switched to Sproos. The collagen creamer is so yummy to add to your morning coffee, it adds a delicious creamy texture. I have noticed positive changes with my body and will continue using sproos :)
Monica K.

CA
09/04/2021
My favourite powdered creamer
I've tried a few different powdered creamers... this one is my favourite; it's creamy and has the added bonus of MCT and collagen. No flavour...just a great cup of coffee
Lara G.

CA
04/23/2021
Good tasting collagen creamer
I just started using the Sproos MCT collagen creamer in my morning coffee after using a different brand. The other brand had a slight fishy smell and taste that I got used to, but the Sproos creamer adds a nice rich flavor to my coffee that I quite enjoy. What a pleasant surprise. I feels more like a treat than a supplement. I can't tell if it has any impact on my hair, nails, and skin yet, but I'm glad I tried this brand.
Caroline R.

US